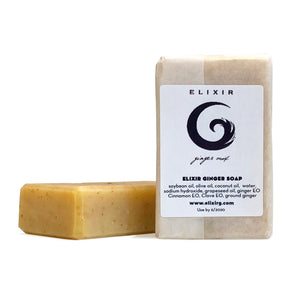 Elixir G Ginger Soap - 4oz. 
Materials
Soybean oil, olive oil, coconut oil, water, sodium hydroxide, grapeseed oil, ginger EO, Cinnamon EO, Clove EO, and ground ginger. 
Ginger is a well-known remedy for nausea and indigestion. Externally ginger is used for its anti-inflammatory and anti-fungal properties warming sore muscles, arthritis, and joint stiffness.
This bar of soap gets its color from the remaining ginger root pulp after it has been processed and bottled into our cocktail mix. We extract the oil from the remaining pulp and it is then blended with organic oils to create a soothing and nourishing bar of soap for your skin.